Creative Kindergarten was founded in Kowloon Tong in 1984. Today, there are 11 Creative Kindergartens and Day Nurseries throughout Hong Kong, Kowloon, New Territories, and Guangzhou.
Creative Kindergarten and Day Nursery (Castello) aims at providing quality pre-school education for children age two to six. Through our loving teachers, developmentally appropriate curriculum, innovative activities and uniquely designed school environment, we work hand-in-hand with our parents to groom confident, caring and proactive learners.
A Safe and Tranquil Environment
The "Castello" campus is located in a renown residential complex in Siu Lek Yuen, Sha Tin. The safe, quiet and private environment provides an ideal setting for the school. Children actively participate in many activities in our spacious outdoor playground. These activities strengthen physical and cognitive development of our children.
Focus on Language Development
Language development is vital in a child's life. It supports children's ability to communicate, to express and understand feelings. With our highly qualified Chinese and NET(native English-speaking teachers), through small group teaching, stories, games and interactive activities, we provide a good tri-lingual and bi-literate foundation that children can build on in primary school.
Play is an essential strategy in preschool learning and teaching. Learning through play with stimulating curriculum materials, specially planned free-choice activities zones such as STEM corner, art and craft gallery and toddler's zone facilitate meaningful play experiences and learning opportunities to promote holistic development and readiness for primary school.
Nurture Proactive Learners
Our "Spiral curriculum" include theme-based, project-based and inquiry-based approaches in teaching. We address to the needs, interests and abilities of each child. We stimulate children to learn through real-life experience and exploration. Our Interactive teaching approach not only increases children's awareness in their world, but also enhances their independent thinking and critical thinking abilities.
Build Confidence and Integrity
Creative Kindergarten provides ample opportunities for our pupils to share and express their feelings. We nurture our children and build confidence, integrity and positive characters through Student-Centred Learning, caring teachers, in cooperation with loving parents.
2000 (Kindergarten) | 2004 (Day Nursery)
| Ages 2 to 3 | Ages 3 to 4 | Ages 4 to 5 | Ages 5 to 6 |
| --- | --- | --- | --- |
| | | | |
| AM Classes | PM Classes |
| --- | --- |
| Monday to Friday 9:00am to 12:00noon | Monday to Friday 1:30 pm to 4:30pm |
Fees (2022-2023 Academic Year):
Grades

Kindergarten

Day Nursery

1. FREE for children holding "2022/23 Registration Certificate for Kindergarten Admission" under the Kindergarten Education Scheme
2. Other applicants please contact our school for details

HK$32,080 each year, payable in 10 installments, HK$3,208 per month
Address: Podium, L6, 69 Siu Lek Yuen Road, Shatin, New Territories
Tel: 2882 2005
Fax: 3124 5131
Email: cast@creative.edu.hk
The 9,000 square feet Castello campus with a detached 2-storey building is located in a quiet neighborhood in Shatin. Children enjoy their happy school life in a natural environment. Our kindergarten has an outdoor playground, 7 classrooms and diversified learning areas, allowing children to carry out various activities. The well-designed facilities, well-planned curriculum and stimulating activities help cultivate children's positive learning attitude, encourage creativity and inspire children's potential.
Multipurpose Learning Area
In our free-choice thematic learning areas, we have set up attractive and developmentally appropriate learning zones, such as: STEM wall, sensory games, insect world, little artists and dramatic play area. They cover the six major development areas of children, including: "Chinese and English language", "Early Mathematics", "Arts", "Physical Fitness and Health", "Science and technology" and "Self and Society" in accordance with Education Bureau's guideline.
Gardening is a good way to get children involved with nature and the environment around them. It teaches children about the beauty of flowers and vegetables, while also teaching them valuable life lessons like patience and self-confidence. Children love spending time in Creative's Garden.
2021-2022 Primary School Offers Placement Results from Creative Kindergarten (Castello)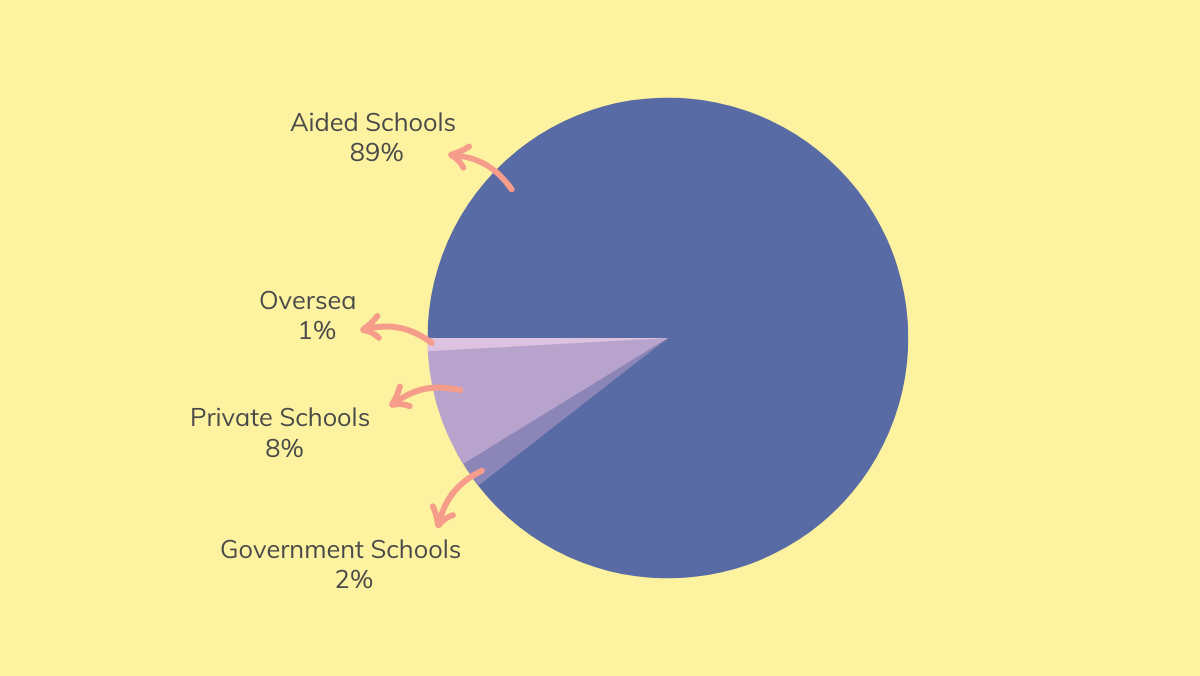 2021-2022 Top 10 Popular Schools that Creative Kindergarten (Castello) Students Applied to
Primary Schools (in no particular order)
Shatin Methodist Primary School
TWGHs Tsoi Wing Sing Primary School
Baptist (Sha Tin Wai) Lui Ming Choi Primary School
Baptist Lui Ming Choi Primary School
Dr. Catherine F. Woo Memorial School
Stewards Pooi Kei Primary School
Leung Kui Kau Lutheran Primary School
Ma On Shan Methodist Primary School
International Christian Quality Music Secondary and Primary School
If you would like to know the Primary School placement in detail, please contact our campus directly.